A lot of the paintings that I create in the mountains are more like personal journal pieces that either serve as a memento or as a reference for larger pieces that I create in my van or when I'm out of the mountains. My general style is quite slow and layered, but the mountains lend themselves to free brushstrokes that depict the energy of the moment. Sometimes, the wind whips the paint across the paper, sometimes, there are dirt smudges, etc. They are living time capsules of the adventure. This space is for sharing the backstory so that you can see a little more of the process behind the creations. 
La Esfinge, Peru
I've wanted to climb the 1985 route on la esfinge for a while now. It's a 750M climb that tops out at 17,500 feet. There's info for the first 8/10 pitches and then its more like choose your own adventure for the second half. Everything feels very difficult at this altitude and as we lost the sun half way through the day, we wound our way left and right (numb hands but fiery hearts) trying to find the best route through icy chimneys, flaring grooves and miles of slab. We topped out at sunset and navigated the rappels and descent in the dark back to our bivy cave. By far, my favorite thing about climbing is adventure and this is one of the grandest ones I've had.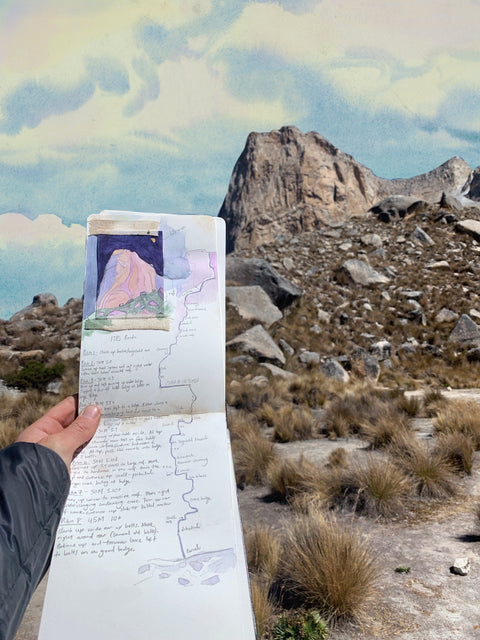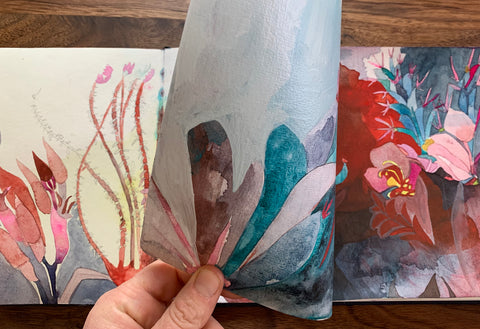 Desert plants are a source of inspiration for me with their wild beauty thriving in a desolate landscape. These plants, with their thorny spines and vibrant blooms exemplify the adaptability and resiliency that is within all of us.
Montana Project (summer 2020)
Moments and memories from a summer spent chasing summits and sunsets around the state of Montana